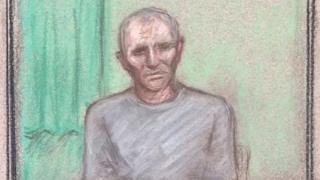 Barry Bennell made a "veiled threat" to ruin the career of one of his alleged sex abuse victims, his trial has heard.
The ex-coach's trial heard that a former Crewe Alexandra youth player was told in a letter that "trouble-causers don't go far in the game".
Liverpool Crown Court heard the comment was made after the player told a coach at his next club about Mr Bennell.
Mr Bennell, 64, denies 48 allegations of child sexual abuse against 11 complainants between 1979 and 1990.
He has admitted seven further charges of indecent assault.
The trial also heard Mr Bennell claimed to have once tried to take an overdose because his abuse was "out of control".
'Veiled threat'
The jury was shown a video of a police interview with the former Crewe youth player.
He said he had initially been scouted by Mr Bennell when he was playing in the north-west of England. Mr Bennell took him on various trips, including to the Bobby Charlton Soccer School – a world-famous residential football coaching course – and for training at Manchester City.
The alleged victim said Mr Bennell was charismatic and "good at anything he turned his hand to".
He said Mr Bennell abused him at home and in his car. He alleged that over time the abuse escalated to serious sexual assault but he did not report him due to "shame".
"My first sexual interaction was with a middle-aged man. It was the confusion, disgust… you kept it to yourself," he said in the interview.
The alleged victim left Crewe Alexandra in the mid-1980s to join another club. He said that when he spoke to a coach at his new club, he corroborated "rumours" regarding Mr Bennell's abuse of other boys, but said nothing about his own experience.
He said he then received a letter from Bennell on Crewe Alexandra-headed paper, saying: "It's a small world, the football world, and trouble-causers don't go far in the game."
The complainant said: "It was a veiled threat."
Cancer 'was karma'
The jury was also read a transcript of a police interview with the defendant, in which he said he had been "out of control" and attempted to kill himself.
The interview was regarding a separate complainant. Mr Bennell admits one charge of indecent assault against this player but denies other offences.
In the transcript the former Crewe Alexandra coach said that the boy "wouldn't allow" the abuse to continue, and added: "He stopped it early, very early; I wish they all stopped it."
He added: "In my sick mind I actually thought the victim enjoyed the situation."
Mr Bennell told police: "I took an overdose. I've done a few things to try and stop it all.
"I was out of control at the time."
He also told officers in the interview that half of his tongue had been removed because of cancer, leaving him unable to eat or drink and describing the disease as "karma" for his behaviour, adding "If you said to me 'lethal injection', I'd take it."
Mr Bennell, who is now known as Richard Jones, is appearing in court via videolink due to illness.
The trial is expected to last eight weeks.
Read more: http://www.bbc.com/news/uk